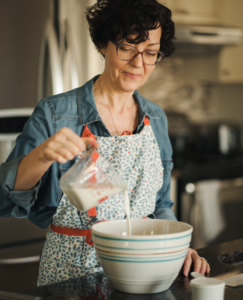 What I love the most about crêpes is that not only are they easy to make, but they pair well with all kinds of different flavour profiles.
Got a sweet tooth? A crêpe full of strawberries and whipped cream or ice cream, Nutella, and bananas is sure to hit the spot. If you're more of a savoury person, then a crêpe with spinach and cheese or meat and potatoes will satisfy a craving like no other.
In this recipe, I've included two ways to make our family's famous crêpes. One is on the sweeter and simpler side, topped with nothing but brown sugar and butter. The other is a bit heartier as it's packed with a delicious, savoury filling that makes use of all your weekly leftovers.
I welcome you to make any kind of filling you'd like whether its sweet, savoury, or a combination of both! Put your own personal spin on the recipe!