Kids in the kitchen
Elementary students laugh and learn in hands-on cooking adventure
What do you get when you mix a group of eager students and a real-life learning kitchen? A whole lot of education, practical skills, and fun memories!
SuperChef Academy and Cooking Quest are two hands-on cooking programs making positive connections between kids and the kitchen. These programs, hosted by Nüton – a team of registered dietitians from Dairy Farmers of Manitoba (DFM), give children the chance to learn about food through hands-on participation while building cooking confidence and lifelong skills. More than 400 kids attend each of the two programs. SuperChef is geared toward Grades 2-3 children, while Cooking Quest is aimed at Grades 4-5 students.
Not only does Nüton teach kids practical skills, but it also equips Manitoba teachers with knowledge. Prior to a program, teachers attend a Nüton workshop where they learn how to teach about food and nutrition. It's a positive, inclusive environment to work directly with registered dietitians about nutrition and, in turn, empower their students.
"It's a primer to positive messages around food and nutrition before they engage in the actual field trip," says Amanda Hamel, a Nüton nutrition programs educator. "This provides teachers with an understanding of how to talk to kids around and about food."
SuperChef Academy
SuperChef Academy participants are split into small groups led by a Nüton dietitian. Students learn the ground rules of kitchen and food safety before getting a chance to use the stovetop, oven, and skillets, while also having a chance to blend, chop, grate, slice, dice, and mix ingredients.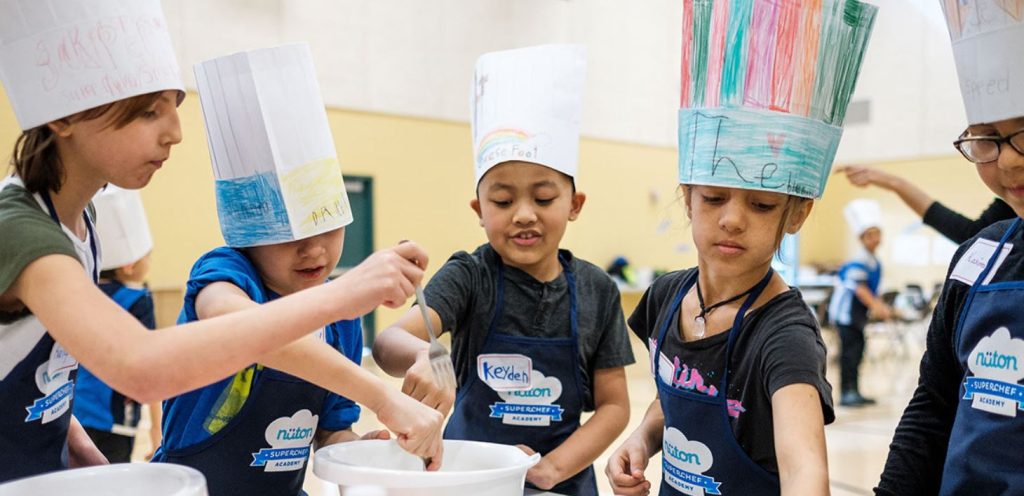 "We're giving kids a sense of independence and ownership around food," explains Hamel. "We try to get them to build confidence around eating by exposing them to a variety of foods. We can help them develop eating competence, which helps them navigate the complicated food system we live in."
Hamel says the helpful connections made through collaborative preparation and consumption of food are invaluable for children. Even better, the program introduces the kitchen apprentices to new foods such as avocado, couscous, or even something as simple as a red pepper.
"Teachers are looking for exciting ways to provide fun food opportunities for kids – and I think SuperChef fits the bill," adds Hamel.
Cooking Quest
One Winnipeg foods and nutrition teacher who immediately fell in love with the program is Stephanie Fehr. Her Grades 4-5 students attended Cooking Quest in 2019 – and she was left in awe of the program.
While SuperChef Academy introduces kids to the kitchen, Cooking Quest takes it a step further. The field trip pairs two on-site classes with two remote classes to complete educational food quests. In person, students investigate a mystery, and the remote groups communicate back through iPads, sharing the information they have researched for their team.
As students fill in the blanks, they earn points, which are ultimately converted into real dollars and put towards nourishment programs in that school's community.
"The way it was organized, it was inviting and inclusive," says Fehr, who described the entire experience as a perfect intersection of theoretical and practical. "Kids sometimes don't want to be talked at, they want to do. It provides a really authentic experience."
Fehr was delighted with Nüton's organized event, which allowed her to stand back and watch the dietitians provide a time of education and entertainment.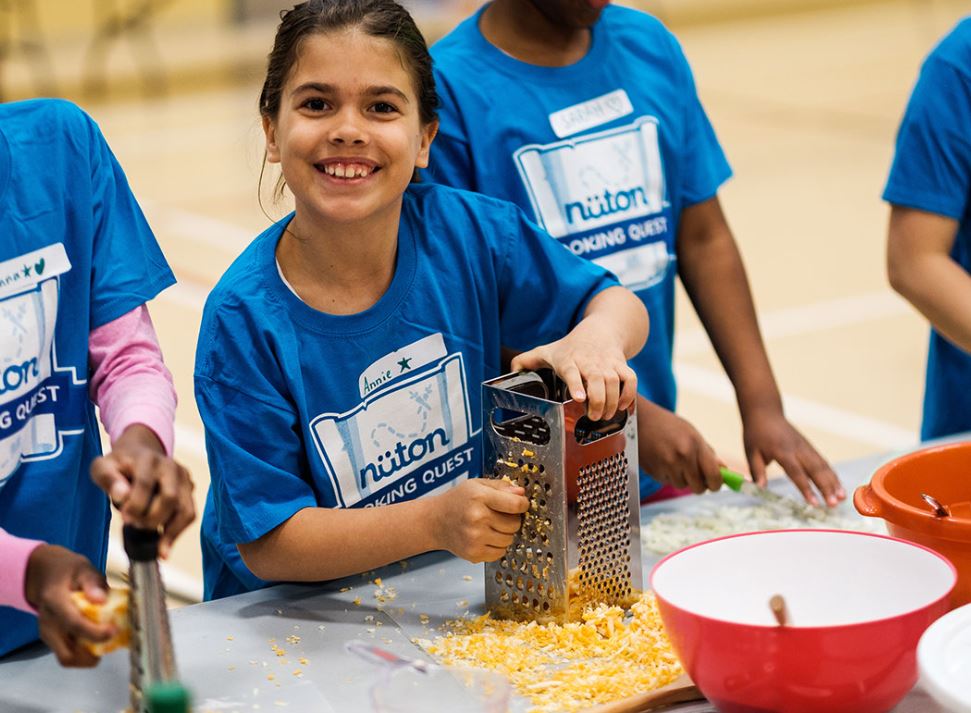 "Students are laughing, making lasagna with hands in the water to soak noodles. They're all having fun, waiting their turn, and being patient," explains Fehr.
For the Nüton team, smiling faces of both students and teachers underscore the importance of both programs.
"The memories that kids walk away with will last them a really long time," says Hamel.
Photos by Daniel Crump Photography