Noreydo Dairy Farm
Alongside his seven siblings, Norbert Rey was raised on a family farm in St. Claude, Manitoba. His father had been raised in an orphanage since the age of 9 and working on a dairy farm for room and board before moving to St. Claude where he met and settled with Norbert's mother. "I had an uncle there who owned the Portage creamery in Portage la Prairie for a number of years," Norbert explains, furthering the context of his dairy farming lineage.
In 1978, Norbert married his wife Donna, and two years later, they built their first dairy barn together and created what is now known as Noreydo Dairy Farm. The name was born out of a combination of the names Norbert, Donna, and Rey.
"We milked 17 cows for our first milking in November when our firstborn, Kevin, was 9 months old," says Norbert. Their other  children – Krista, Ryan, and Shari – were born in 1981, 1986, and 1989. As the kids grew older, they began to help on the farm alongside their after-school involvements with hockey and music. "Over the years, whenever Donna and I would be milking, the kids would play in the middle of the barn. We made a 'playpen' with hay bales."
Over the years, Norbert and Donna increased their herd to 50 cows, and then worked with their sons, Kevin and Ryan, to continue to grow their farm. "In 2010, we added a new barn and milk house. Presently, we milk 90-100 cows and crop 1,000 acres plus rented land. We do this with one employee and family help."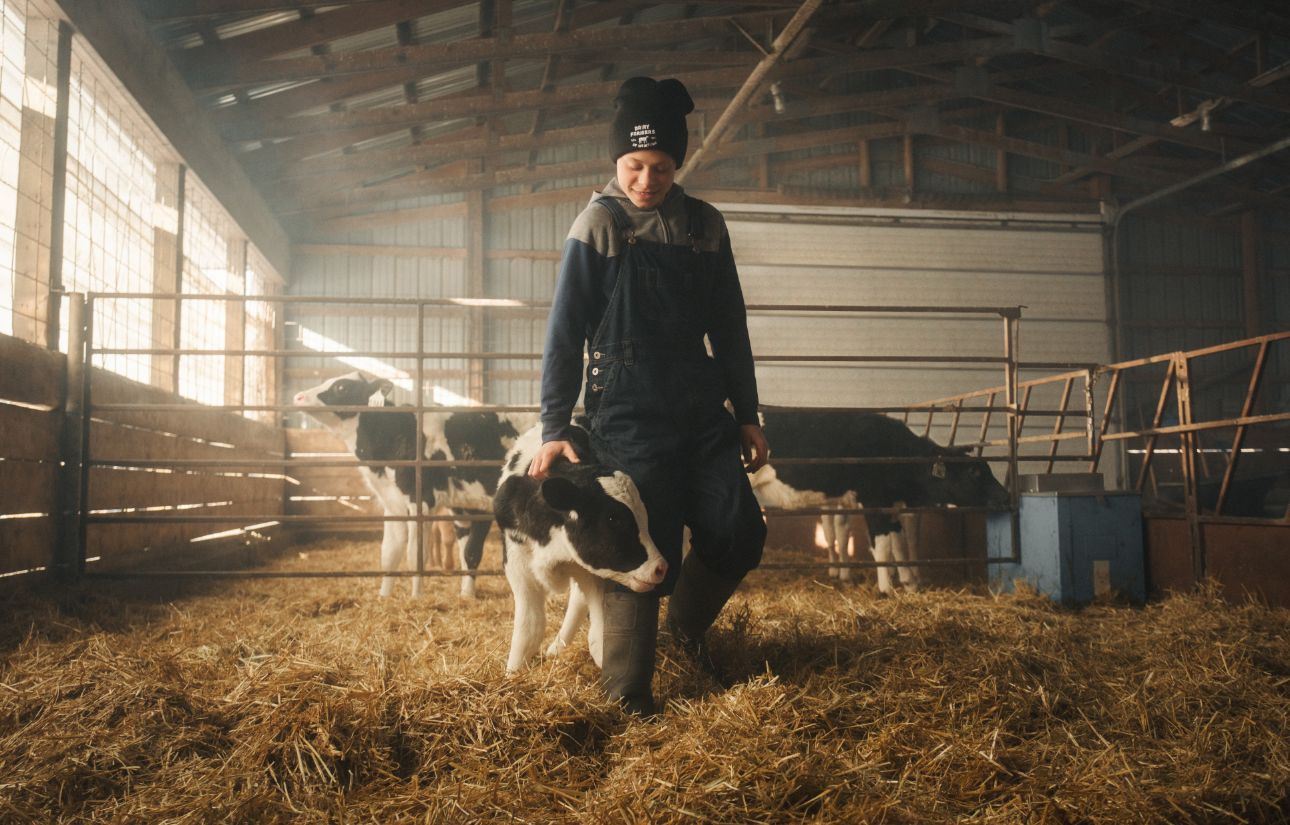 "The children learn how to work
and be responsible. They can see
the results of their work, but they
also learn they can have fun too."
Their son Kevin and his wife Lisa now have 3 children—Owen, Kali, and Liam. They help with milking, feeding calves, yard work, and any other farm chores. Ryan and his wife Micheline have 3 children as well—Eli, Taryn, and little Sadie. "They also help around the barn by feeding calves and whatever other chores they can manage," Norbert explains proudly. "And when they're not helping here, Owen, Kali, and Liam are involved in hockey. While Eli and Taryn play hockey and baseball."
In Norbert's eyes, working on a dairy farm at a young age is an important asset. "They can take what they learn wherever they go and apply it to whatever they want to do. When my kids were small, they would come in the tractor or the combine with me, now the grandkids do. We would sometimes have meals together in the field, something we still do, with the grandkids and everyone! The children learn how to work and be responsible. They can see the results of their work, but they also learn they can have fun too. All in all, a dairy farm is a good place to raise a family!"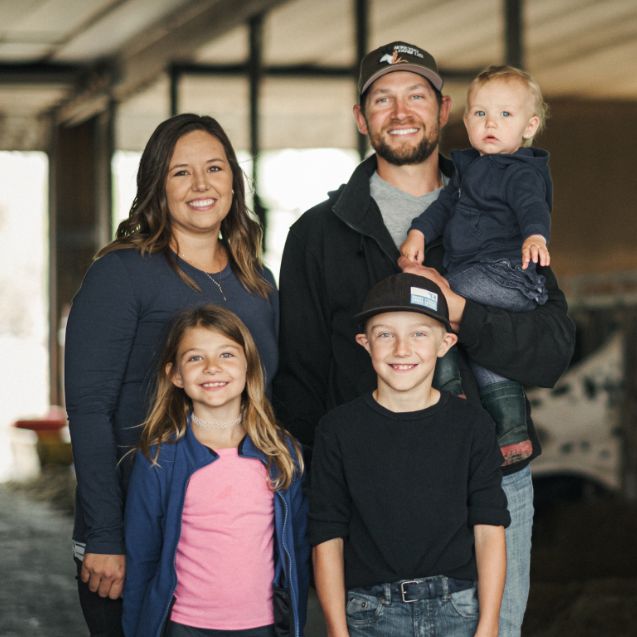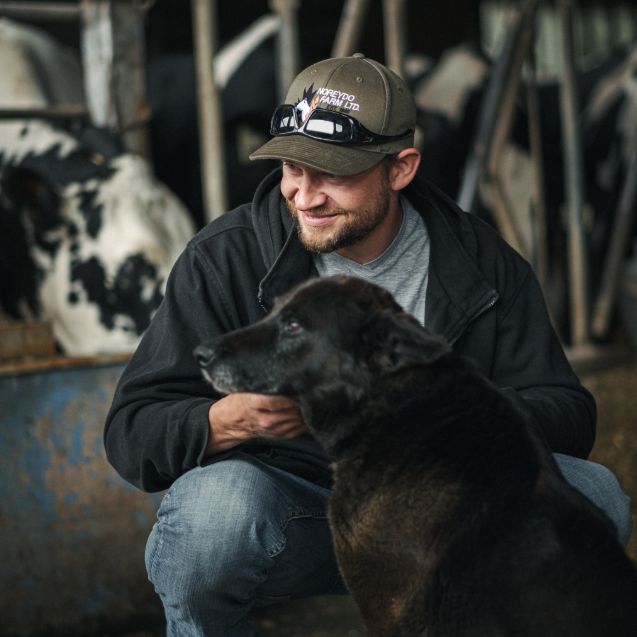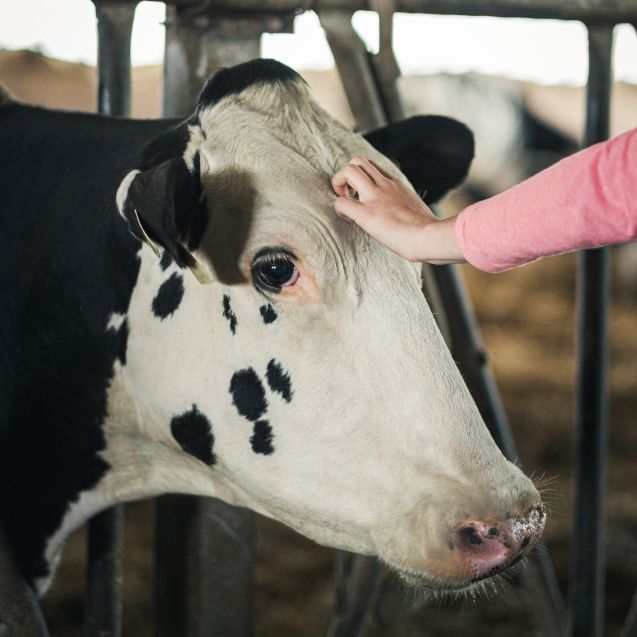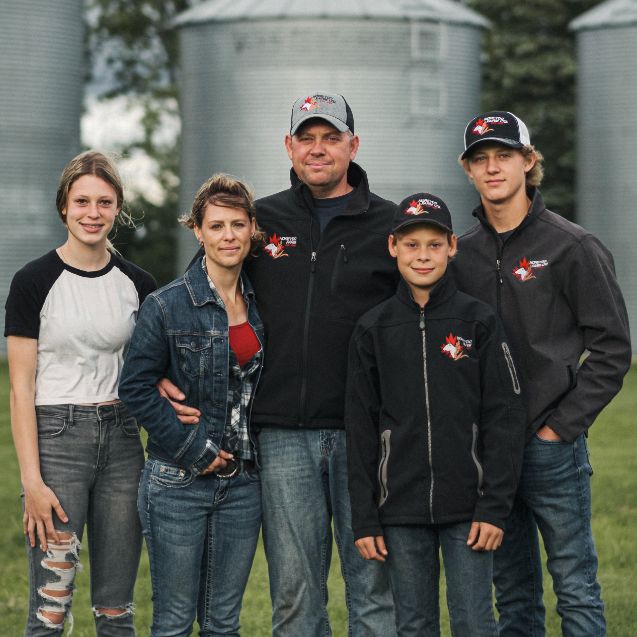 On the farm, dairy farming duties happen every day, twice a day. "You have to feed and care for your animals, keep your place clean, and produce good quality milk. We use the help of a nutritionist and a veterinarian. They both help to balance the feed ration and maintain good herd health. From seeding in spring to harvest in fall, the pressure is on to make enough good quality feed to last through the winter," Norbert explains.
"We need lots of straw for bedding the animals both inside the barn and outside during the winter months. Winters can be very cold and stormy, but with shelter and good, dry bedding, the animals do well. During the winter, the pressure eases and we have a chance to regroup before it all starts again. We have seen changes in the way cows are milked, the way they are fed, and the ration they are given. It's all done to make sure the animals are cared for and healthy and to ensure quality milk."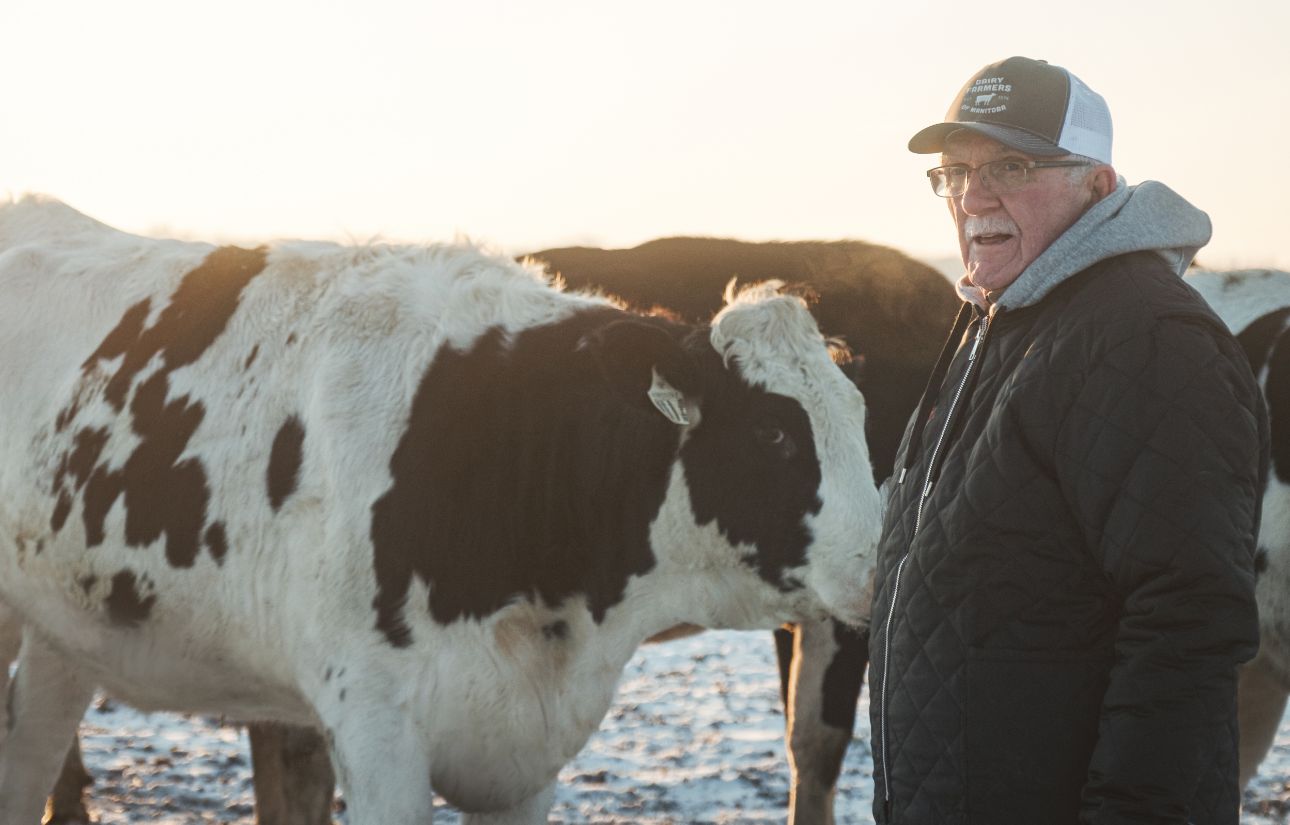 As the days get longer and the snow begins to melt, Norbert knows that spring is on its way and the cycle begins again.
Photos by MAST Creative