Throughout the years, I've tried many different fruit crisp recipes, but the combination of rhubarb and strawberry was something I always wanted to try. I just never seemed to have all the right ingredients at the same time. One day, I had fresh rhubarb on hand and strawberries in the freezer—it was the perfect time to begin experimenting with the flavours I'd been dreaming about for so long.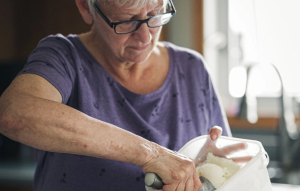 To craft this dessert, I combined a few of the other recipes I've tried. The rhubarb and strawberries came from one recipe while the topping from another—I just added rolled oats for more texture and crunch. While I was experimenting with the taste, I used my husband as my guinea pig. He said it wasn't too sweet with the rhubarb and strawberries. It was just tart enough. And so, voila! My Rhubarb & Strawberry Crisp recipe was born! 
 It's a dessert that my family likes, so I tend to make it most when things slow down a little in the winter.  
For the best taste, serve warm with a nice scoop of vanilla ice cream on top!